The Arnold Classic Africa Model Search strives to Identify the next great Fitness Model who has the "IT" factor. We are looking for one female and one male who has it ALL - a healthy lifestyle, a fit body, charisma, glamour and the ability to project yourself as an A-lister.
This show will be held at the Sandton Convention Centre JHB on the Saturday (18 May 2019) of the Arnold Classic Africa Weekend.

As soon as the Event Program is finalised, the time slot of this event will be advertised.
Models from the ages of 18 can enter the competition.
The Judging panel will comprise of professionals in the Fitness industry, Publishing industry, Casting industry etc
Arnold Classic Africa Model Search 2019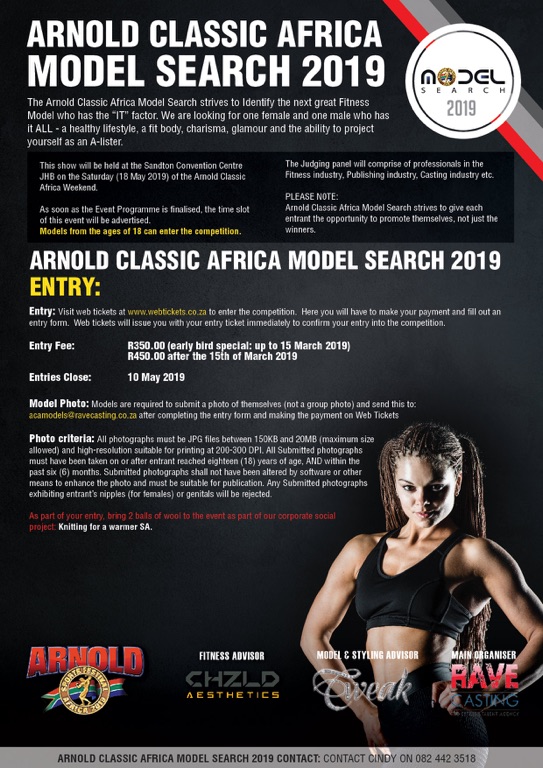 ARNOLD CLASSIC AFRICA MODEL SEARCH 2019: ENTRY AND ENTRY FEE
Entry: Visit web tickets at www.webtickets.co.za to enter the competition. Here you will have to make your payment and fill out an entry form. Web tickets will issue you with your entry ticket immediately to confirm your entry into the competition.

Entry Fee: R350.00 (early bird special: up to 15 March 2019)
R450.00 after the 15th of March 2019
Entries Close: 10 May 2019
Model Photo: Models are required to submit a photo of themselves (not a group photo) and send this to This email address is being protected from spambots. You need JavaScript enabled to view it. after completing the entry form and making the payment on web tickets.
Photo criteria: All photographs must be JPG files between 150KB and 20MB (maximum size allowed) and high-resolution suitable for printing at 200-300 DPI. All Submitted Photographs must have been taken on or after entrant reached eighteen (18) years of age AND within the past six (6) months. Submitted Photographs shall not have been altered by software or other means to enhance the photo and must be suitable for publication. Any Submitted Photographs exhibiting Entrant's nipples (for females) or genitals will be rejected.
Social Responsibility: Each contestant needs to bring along 2 x balls of wool to the day of the event to hand in as part of our social responsibility project: "Knitting for a warmer South Africa
---