VIRTUAL ART COMPETITION WINNERS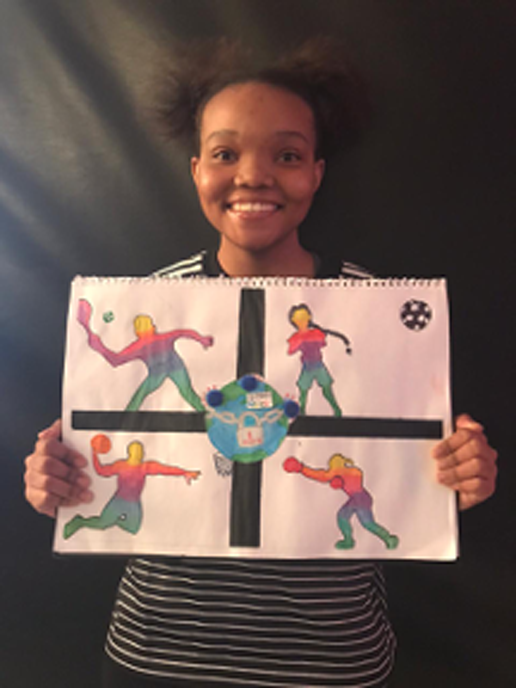 Ayanda Tshabalala
16 Years
Acrylic paint and coloured pencil crayons
My name is Ayanda Tshabalala, 16 years old. I live in Pretoria. I am in grade 10. I enjoy outdoor activities, riding my bicycle, hiking, reading comic books and novels and I also enjoy art; drawing and craft work. I consider myself to be creative and very adaptive with an agile mindset. I do swimming, and play underwater hockey. I did artistic gymnastics, competed until level 4 and after an injury, started with rhythmic gymnastics, competed level 3. I was a Scout. Due to demanding school work I had to stop and concentrate on few extra mural activities. Now I only swim and play underwater hockey. During lockdown, I learnt to knit three different stitches and cook pap - thanks mom!
I find inspiration in a number of people and things. My mother and sister are amongst those. They always find something to be cheerful about. I like the way my mother always takes things in her stride. My mother always tells me to stay focused even when the odds are against me.
I am also inspired by sports teams that work together well. To others sports is just fun and games. To me team sports taught me the ability to learn from setbacks and be able to move forward. Sports taught me discipline. Helps me learn about patience, accountability and resilience. This year I played for the Gauteng North U/19 Girls team at the SA Junior Nationals Underwater Hockey Games. The competition was tough. My team (we) put all maximum effort in every single game we played, but we lost. I held back tears after every loss - losing stinks but that didn't crush my spirit. Although we didn't get the podium finish, my teammates and I stuck together and lost as champions. Like the saying goes, "bad things happen, how one respond to them defines one's character". The reward for me was the opportunity to be a good team player and made good friends.
My future plans
My dream is to always be happy and make the best out of my life. Immediate plan is to complete my high school with good grades, be in the SA U/19 Woman underwater hockey team for World 2022 and be a fitness model. Further into my life, I plan to go to university and obtain a degree in architecture. I want to be an Architect. Actively design everything. Use craft/art to express myself like a contemporary dancer. Today everything seems possible in architecture.
I also want to travel, to see the iconic buildings around the world such as the Guggenheim in New York, the Gherkin in London, the Colosseum in Rome, just to name a few. I want to see all the amazing high rising buildings in Dubai.
Furthermore, I want to continue swimming competitively. Maybe one day I will have the podium finish at the Olympics. Bonus would be to see my sister become the most decorated rhythmic gymnast. She has always been better than me but I have more tenacity ?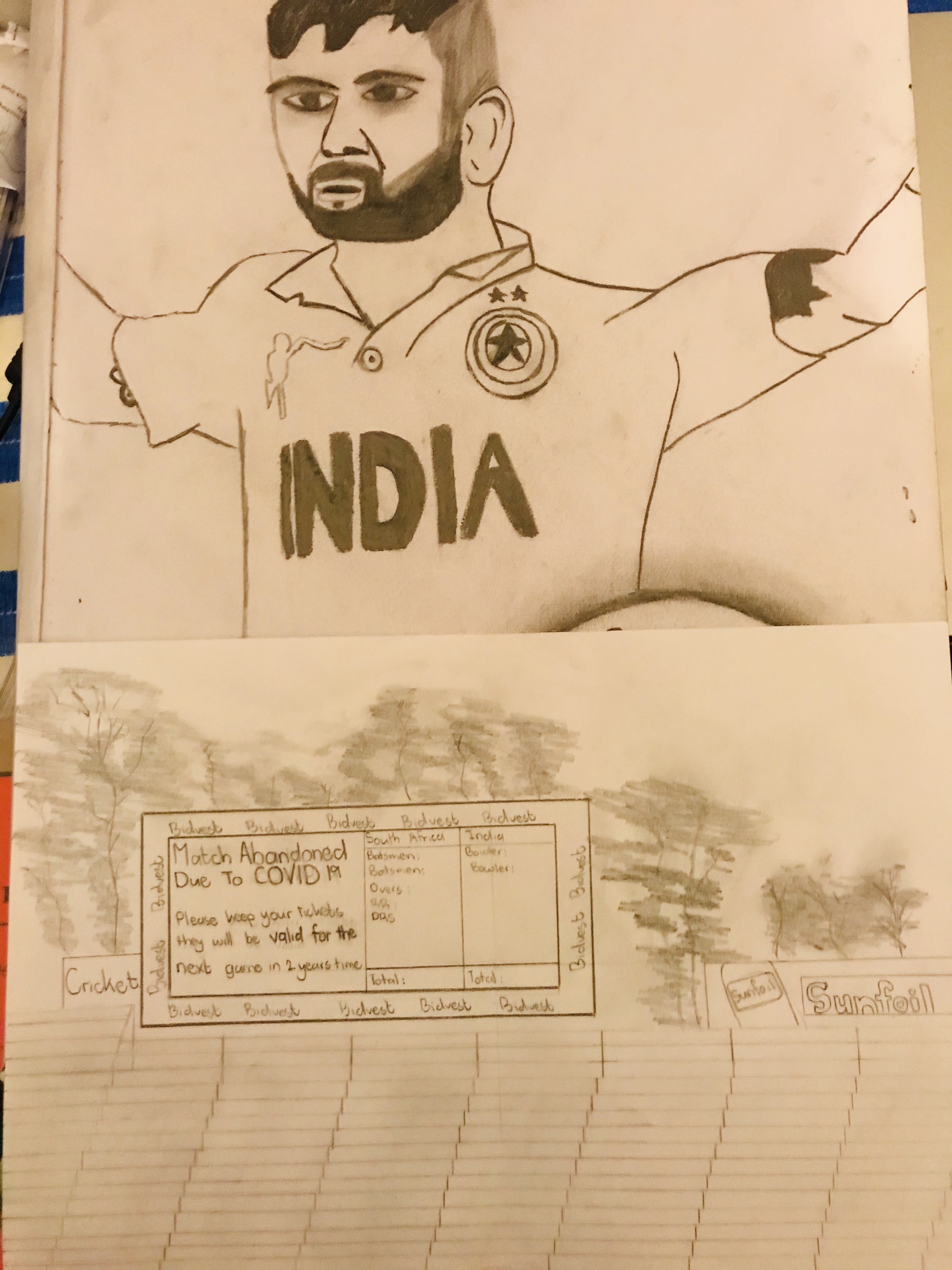 Darshan Chellan
13 Years
Art Competition medium: Pencil: Pencil

I enjoy doing art at school, it is a great way to express how I feel about the world. There is power in art as it can make a difference in the world. It can inspire, it can create change, it can make a difference.
Mthobisi Ximba
Over 18 Years
Art Competition medium: Pencil: Charcoal

I'm self taught artist from Soweto and willing to conquer the world with my talent
Maunatlala Madileng
20 Years
Art Competition medium: Pencil: Pencil


I did not go to art school and designed my school's blazer.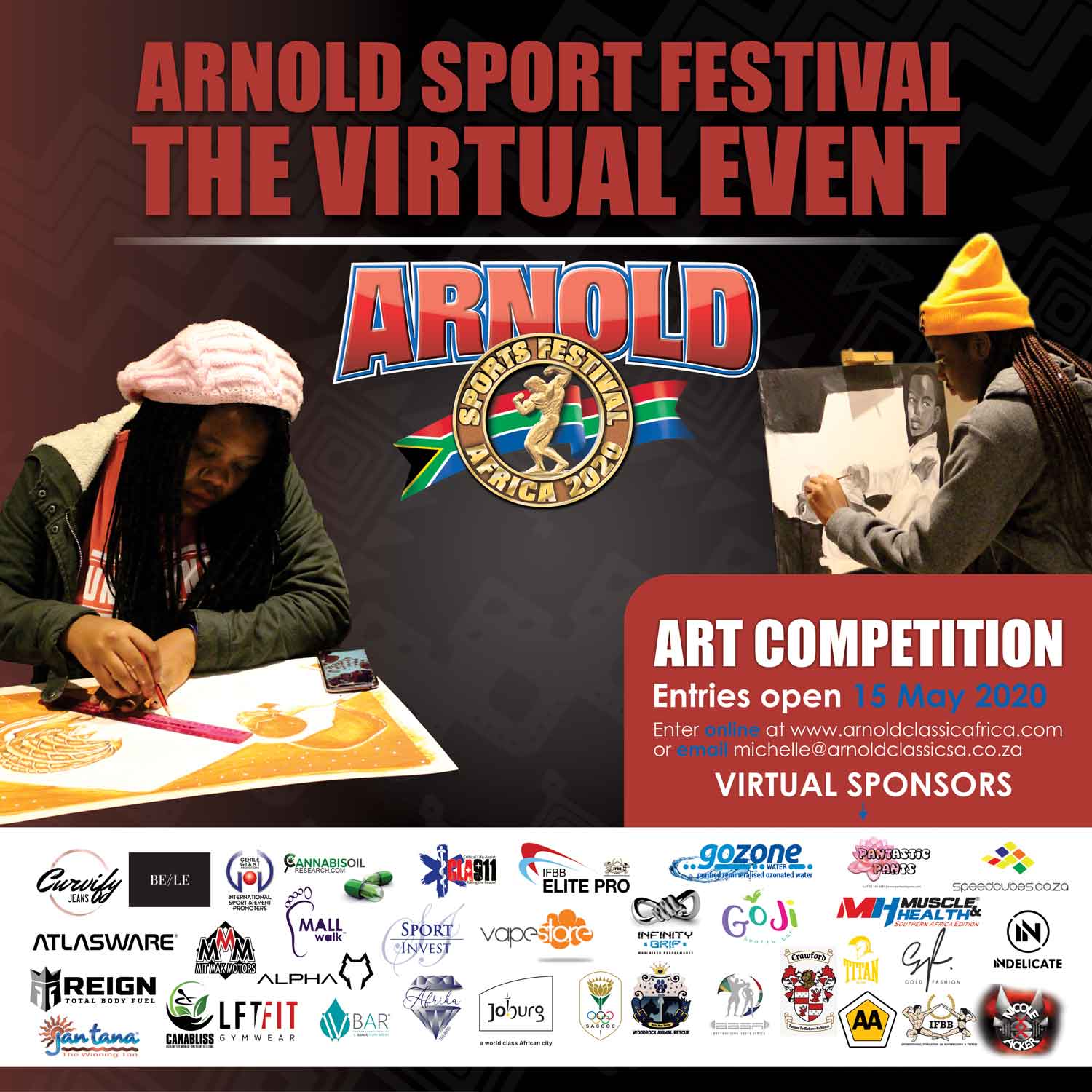 The art piece can be of any art form (pencil, paint, charcoal, coffee, mud, etc) on a canvas of any size.
Theme: The effect or impact of Covid -19 on sport.
The art piece must be your own work with no assistance, done in your own time.
When you are ready to upload your artwork photo's complete the entry form on arnoldclassicafrica.com
Entry fee R100 per artwork.
You can enter more than one artwork piece but you will have to complete an entry form per artwork piece, pay R100 per entry form and upload it separately.
Two pictures to be uploaded:
Picture of yourself with your artwork
Picture of artwork only
Entries open 15 May and close 15 July
Winners will be announced by end of July 2020.
Click on the photos to view
---